Lockheed-Martin F-16 Fighting Falcon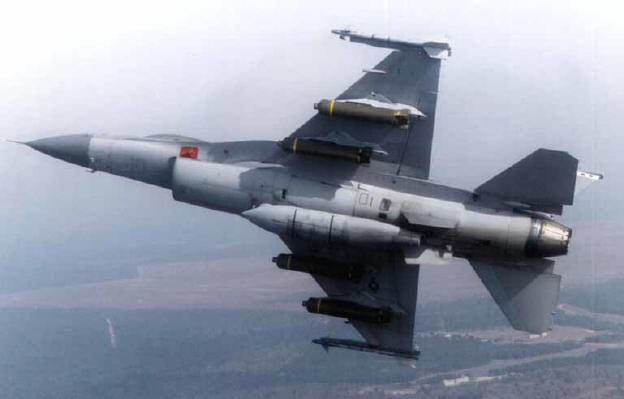 The F-16 Fighting Falcon is a compact, multi-role fighter aircraft. It is highly maneuverable and has proven itself in air-to-air combat and air-to-surface attack. It provides a relatively low-cost, high-performance weapon system for the United States and allied nations. In designing the F-16, advanced aerospace science and proven reliable systems from other aircraft such as the F-15 and F-111 were selected. These were combined to simplify the airplane and reduce its size, purchase price, maintenance costs and weight. The light weight of the fuselage is achieved without reducing its strength. With a full load of internal fuel, the F-16 can withstand up to nine G's -- nine times the force of gravity -- which exceeds the capability of other current fighter aircraft.
The F-16A, a single-seat model, first flew in December 1976. The first operational F-16A was delivered in January 1979 to the 388th Tactical Fighter Wing at Hill Air Force Base, Utah. The F-16B, a two-seat model, has tandem cockpits that are about the same size as the one in the A model. Its bubble canopy extends to cover the second cockpit.
All F-16s delivered since November 1981 have built-in structural and wiring provisions and systems architecture that permit expansion of the multirole flexibility to perform precision strike, night attack and beyond-visual-range interception missions. This improvement program led to the F-16C and F-16D aircraft, which are the single- and two-place counterparts to the F-16A/B, and incorporate the latest cockpit control and display technology. All active units and many Air National Guard and Air Force Reserve units have converted to the F-16C/D.
USAF F-16 multi-mission fighters were deployed to the Persian Gulf in 1991 in support of Operation Desert Storm, where more sorties were flown than with any other aircraft. These fighters were used to attack airfields, military production facilities, Scud missiles sites and a variety of other targets. Most recently in the Spring of 1999 during Operation Allied Force, USAF F-16 multi-mission fighters flew a variety of missions to include suppression of enemy air defense, offensive counter air, defensive counter air, close air support and forward air controller missions. Mission results were outstanding as these fighters destroyed radar sites, vehicles, tanks, MiGs and buildings.