Boeing B-52 Stratofortress Gallery - Photographs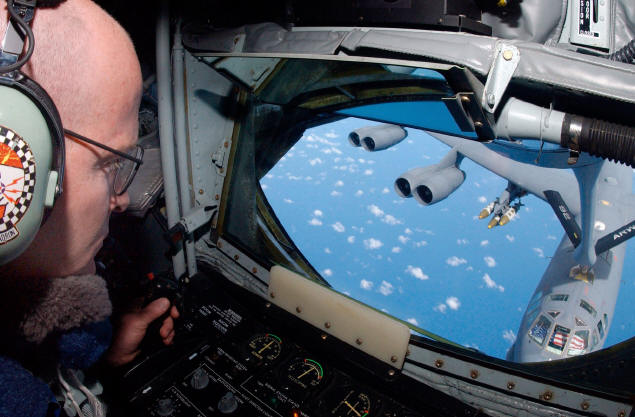 OPERATION ENDURING FREEDOM -- Staff Sgt. Bob Spychalski, a KC-135 Stratotanker boom operator, 28th Expeditionary Air Refueling Squadron, prepares to refuel a B-52 Stratofortress on its way to Afghanistan, May 7, 2003. (U.S. Air Force photo by Tech. Sgt. Richard Freeland). Note the American flag in the B52 cockpit.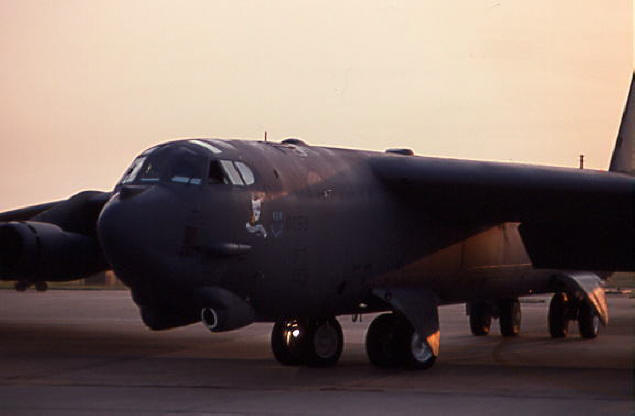 August 1, 1994. 0700 hrs. Barksdale AFB, La. B-52H-160-BW 60-0059 of the 96th Bomb Squadron,
2nd Bomb Wing taxies out of her parking spot for a non-stop 22,000 mile "Around the World" trip. Accompanied by her sister ship, 60-0008 (which departed Barksdale 2 minutes after 0059), the two bombers returned to Barksdale just as dawn broke on August 3rd. The BUFF did it . . . again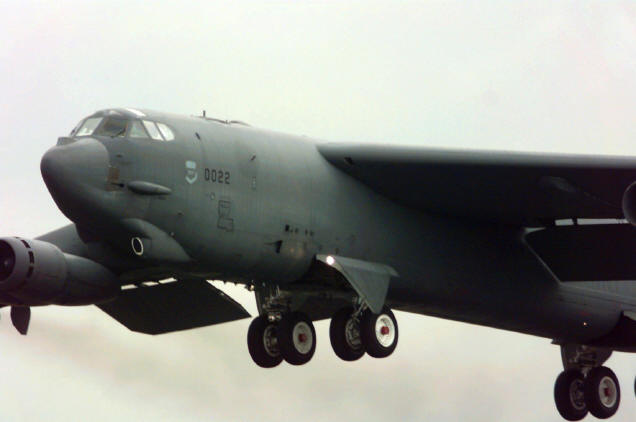 A B-52H, from the 2nd Bomb Wing, Barksdale Air Force Base, La., lifts off at Royal Air Force Fairford, England. The 2nd is deployed to England in support of the 2nd Air Expeditionary Group, for Operation Allied Force. (U.S. Air Force photo by Senior Airman Jeff Fitch)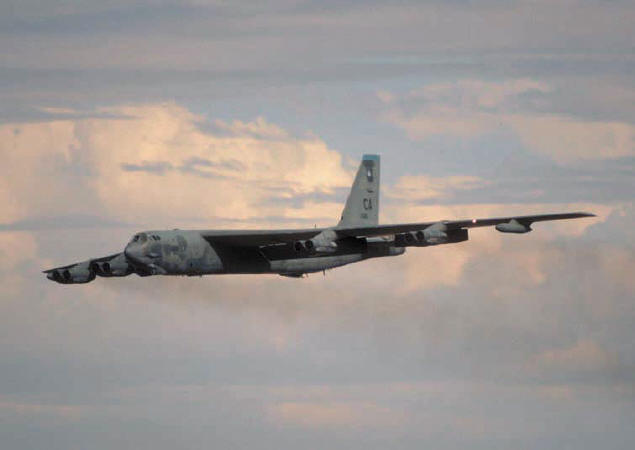 B-52G, 59-2565 of the 93rd Bomb Wing takes a wave-off over Castle AFB on September 17, 1992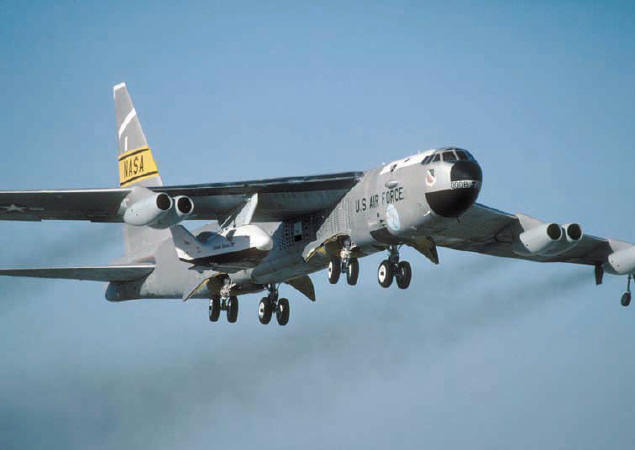 NASA's NB-52B, 52-0008 takes off with X-38 Space Station Crew Return Vehicle, V-131R at Edwards AFB on November 2, 2000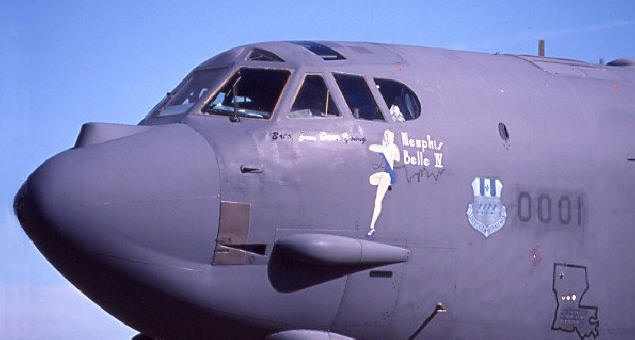 B-52H-135-BW 60-0001 Memphis Belle IV. This Belle was the first H-model BUFF built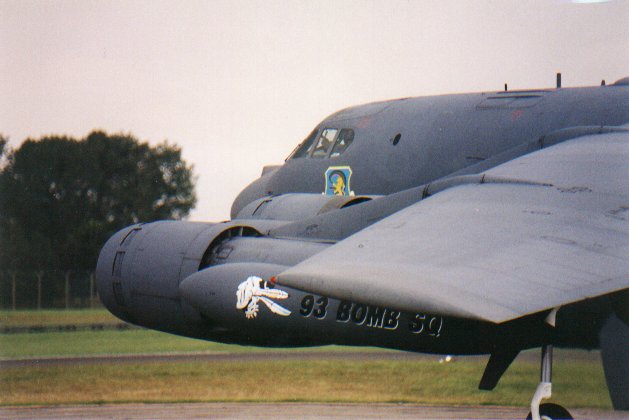 B-52, 93rd BS. Air Tattoo 1998, RAF Fairford, Gloster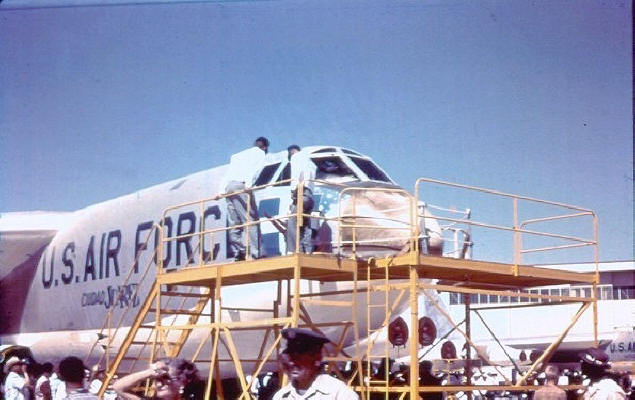 B-52B 53-380 ("Ciudad Juarez") of the 95th BW. This aircraft was accidentally shot down by a 188th TFS (New Mexico Air National Guard) F-100A on April 7, 1961, with the loss of three lives. Hard to believe, but an AIM-9 Sidewinder is capable of downing even such a large aircraft.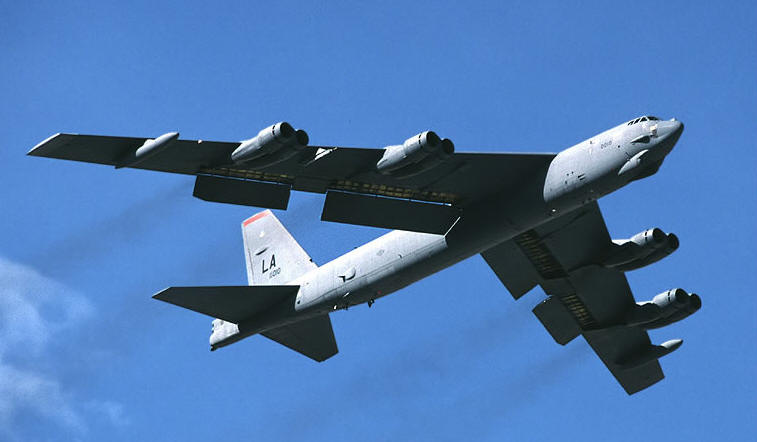 B-52H 60-0010/LA, assigned to the 96th BS, 2nd BW. Aircraft launching with live weapons launch in this direction to avoid the risks associated with over flying the Vegas suburbs to the south. This aircraft is a veteran of Operation Allied Force and flew numerous missions from RAF Fairford against targets in Serbia and Kosovo in the spring of 1999.